Amazon Loses $200 Billion Dollars on Autonomous Vision AI Fund Downgrade
$200 billion dollars have just vaporized from Amazon market cap. as the company reported earnings reiterating a downgrade to Strong Sell at a price of $2,046 explaining the most profitable investment strategy to adopt.
Investing in Amazon from $77 to $2,046
We have been long-term investors in Amazon but that does not mean that we have to keep buying shares ahead of an important turnaround and stock market collapse. On the contrary, our role is to inform people how to profit the most instead of following the guidance of blind fools whom have no track record.
---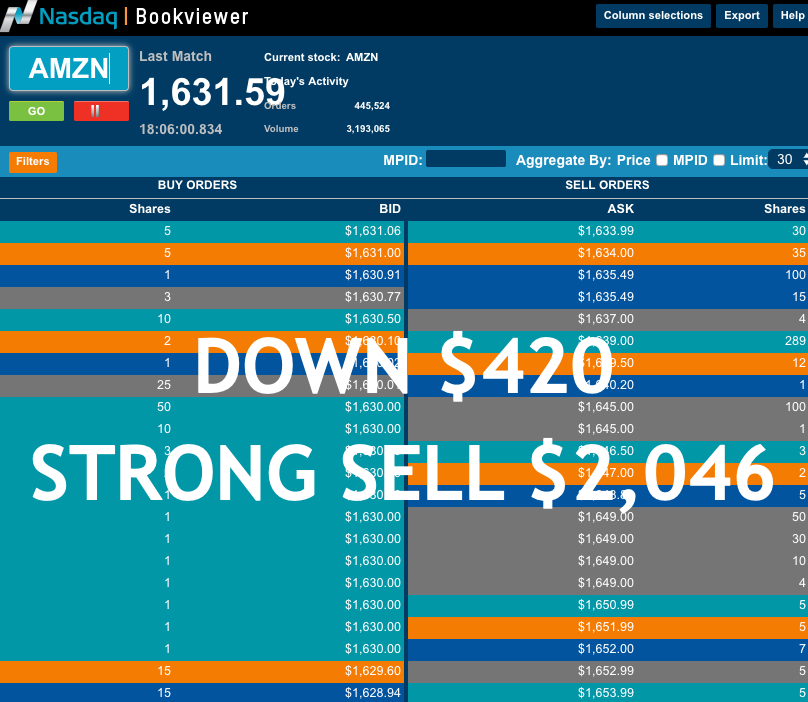 ---
We are unable to disclose the profits obtained sparking the biggest rout in the U.S stock market since 2011.  The aim was to transfer the risk to everyone else buying stocks at new all-time highs. Alex
---
FANG Hype is Gone!
The hype surrounding FANG is gone as investors accumulated HORRENDOUS losses over the past weeks. Facebook lost tens billions of market cap. since our downgraded to Strong Sell. Netflix momentum remains a major issue after Autonomous Vision AI Fund bailed out. Google pulled back a bit after its most recent earnings report.
---
With Wall Street losing so much money in the stock market, Americans should come together as a great nation buying more shares helping each other. Bailing out Wall Street is a civic right in the American constitution for the benefit of the society. After all, Amazon will be $3,000 within less than 2 years.
---
America is the Greatest Nation. Buffett Sees Dow Towards 1,000,000
America is the greatest country in the world. It has unlimited resources and the brightest people are born there. In America, you cannot find poverty, it's a safe harbor for your family. Ask Warren Buffett, one of the greatest mind who has been helping you for decades. Although, he has never invested in Amazon, but as a believer in America he is permanently investing towards Dow 1,000,000.
Individuals as Warren Buffett or Elon Musk thrive daily to show the rest of you the bright future ahead. Both are billionaires wining the race against infidels.
---
---
If your neighbor is losing money in the markets consider helping him buying stocks! If your neighbor needs guidance in difficult times show him the bright future. Americans should stand together in the most difficult times instead of fighting each other. Tomorrow, you should announce peace with China and everyone else. The future is well-known according to Buffett prophet and Oracle of the Universe, it's a given Dow 1,000,000 will be here.