Autonomous Trading Sells Amazon $2,046 Sparking Tech Stocks Rout
Alex Vieira has been screaming to invest in Amazon for more than a decade offering to investors 100% accurate Amazon price target $2,040, unlike the incompetent Warren Buffett.
Amazon Price Target $2040
Autonomous Trading gave a price target to Amazon $2,040 corresponding to $5 billion dollar profit investing in Amazon long-term.
---
---
---
Amazon shares were sold as soon as its share price reached our price target.
AI Perelman Algorithm Fields Medal Strong Buy since $77 perfect #AI forecasts worth $5 billion dollars plus $AMZN $QQQ $AAPL https://t.co/ePq53YgVgQ pic.twitter.com/vyVRwFCYcV

— ALEX (@vieiraUAE) September 4, 2018
---
Autonomous Trading AI Tech Fund Sells Amazon Price Target $2046 by IntuitiveCode on TradingView.com
---
After short sellers covered their short positions at new all-time highs seeing ETF INVESCO QQQ rallying to $187, the company sold its stake assuming a large short position since then.
---
Gamblers in the stock market have to be prepared to suffer continuous losses as artificial intelligence has never failed a forecast. Vieira
---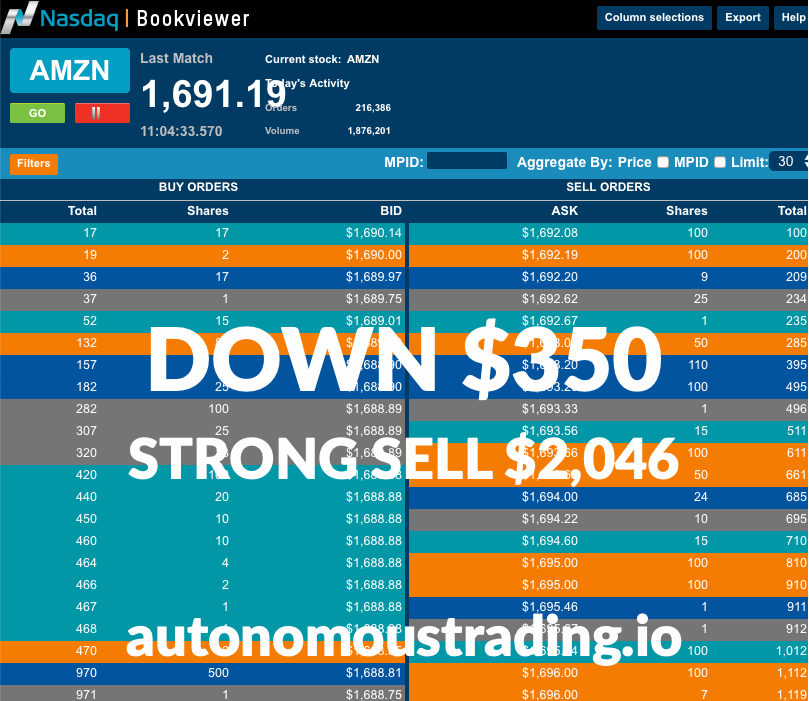 ---
---
Tech stocks have suffered the most dramatic sell off since 2011 thanks to our unique work in the history of the financial markets.
Now, learn how to buy a Ferrari in just four months without any experience whatsoever!