The Death of the American Consumer. Algorithm Calls Walmart Stock Crash Today
Walmart and Costco investors following the legendary Alex Vieira have nothing to fear. Instead, learn about which actions long-term investors shall take to continue outperforming, disregarding the useless analysis of biased Wall Street investment firms.
Walmart Q1 earnings miss estimates as inflation weigh on profits
Walmart (WMT) reported mixed quarterly results on Tuesday, with earnings falling short of forecasts as rising costs for food, fuel and wages weighed on profitability even as still-solid consumer spending helped buoy sales. Shares declined by more than 6% in pre-market trading.
Here are the main metrics from Walmart's first-quarter earnings report, compared to consensus estimates compiled by Bloomberg:
Revenue: $141.57 billion vs. $139.09 billion expected, $138.31 billion Y/Y
Adjusted earnings per share: $1.30 vs. $1.48 expected $1.69 Y/Y
Total U.S. comparable sales, excluding gas: +4% vs. +2.26% expected, +6.2% Y/Y
Walmart, the largest retailer in the U.S., had seen sales growth decelerate from a peak rate during the height of the pandemic domestically when a surge in pantry stocking and stimulus checks helped boost results. Still, the company has maintained revenue growth as demand remained resilient for the company's array of products, even as consumer prices have climbed across the country. As a result, U.S. comparable sales excluding gas — a closely watched metric of underlying sales trends at the company — grew by a greater-than-expected 4%. Walmart-only U.S. similar sales excluding gas also increased by a better-than-anticipated 3%.
Walmart also signaled that many of these cost pressures would remain a drag on profitability throughout the year. As a result, the company cut its profit outlook and now sees a decrease of about 1% in earnings per share for the whole year, compared to a prior outlook of an increase by mid-single digits.
Ouch! Walmart Bubble!
Walmart (WMT) and Costco (COST) investors following the legendary Alex Vieira have nothing to fear. Walmart CEO confirmed the sheer incompetence of Walmart's team execution.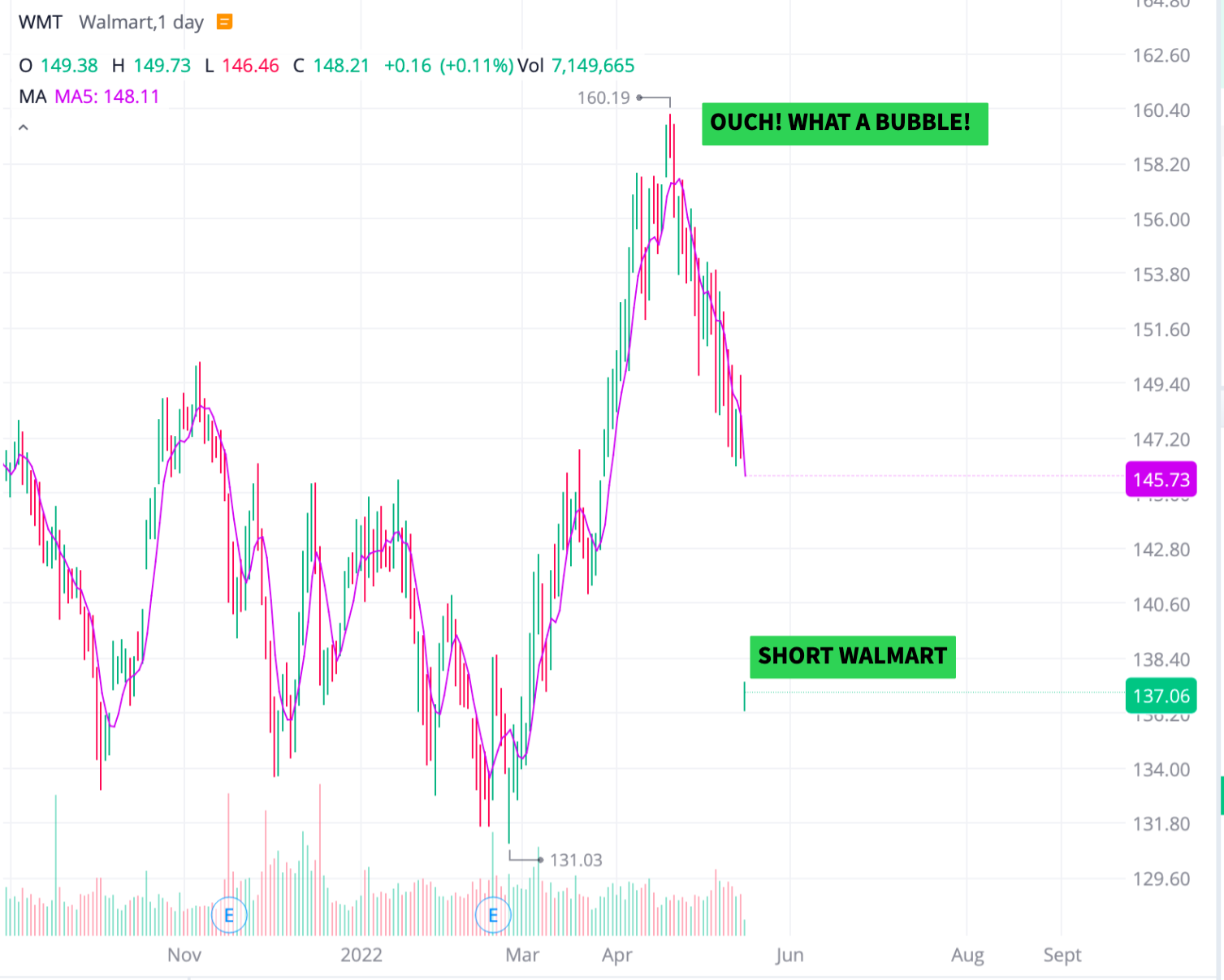 Would you like to learn about what's ahead for investors in cryptocurrencies and the stock market? Then, listen to those making the calls. What they do echoes in eternity regardless of your perceptions and beliefs.
A Superior Race is Measured by its Magnificent Intellect and Ability to Execute.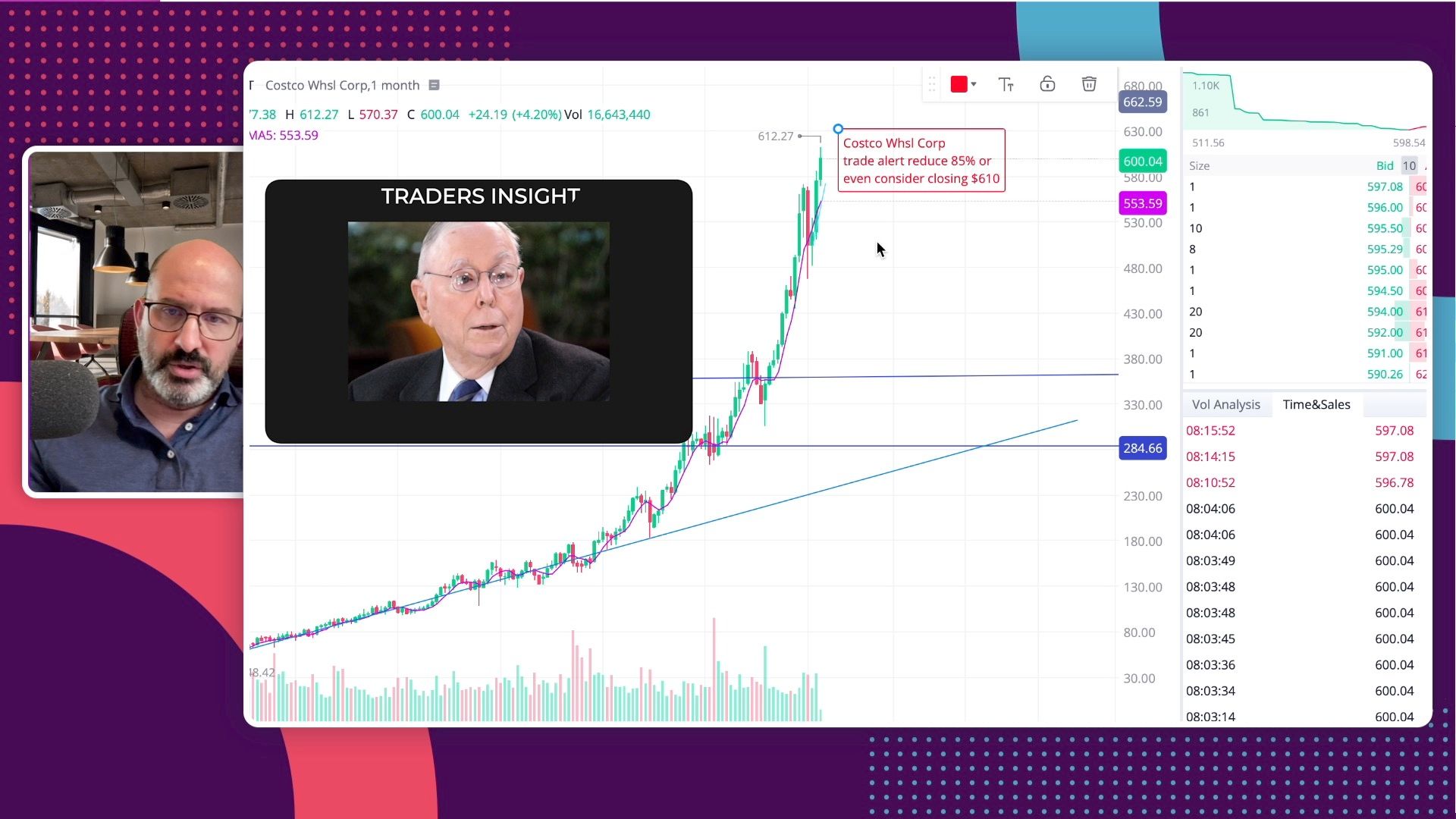 Walmart (WMT) share price plunged on open bell 8% to $136
Alex Vieira & Perelman Algoritms
By using autonomous AI trading, you benefit from Alex Vieira's insight, expertise, and experience investing in the markets and native integration with Intuitive Code solutions, which enable efficient end-to-end digital transformation by integrating AI and robotic process automation. In addition, they develop custom software and implement solutions powered by machine learning, predictive analytics, pattern recognition, intelligent assistants, robots, to apps.