I'm Getting Rich Using An App Better than Netflix for the Same Price
Intuitive Code has just received another review for a better Netflix for investors, which is well worth reading. We invite you to look at the hard facts. Feel free to compare to Americans being jailed for defrauding honest people.
An app Better than Netflix
The title of this article is the review of a client.
I'm getting rich on Alex's app paying the same I pay for Netflix.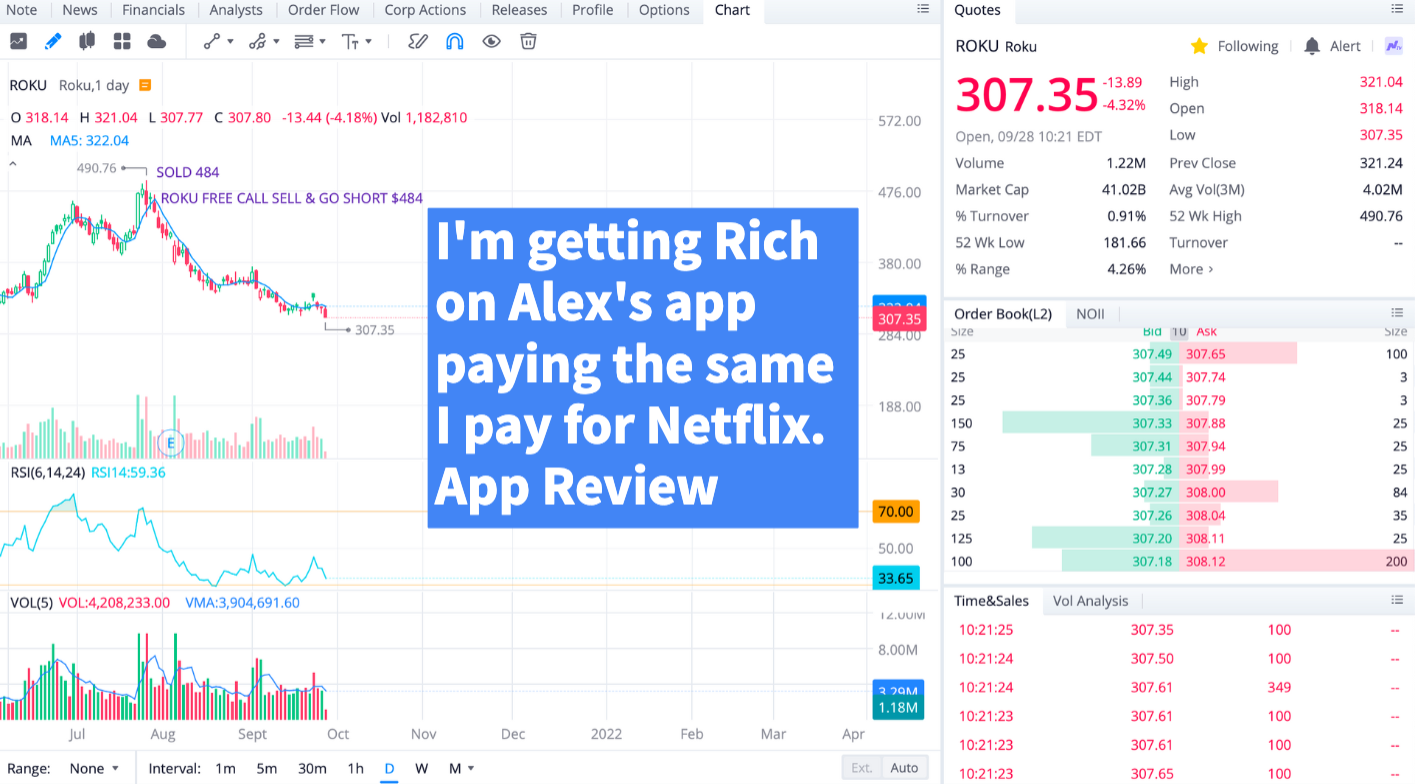 You can compare hundreds of honest reviews with those of  American fraudsters involved in Ponzi schemes.
Intuitive Code Solutions
We focus on bringing the value of artificial intelligence coupled with our team experience and intuition to help you learn and benefit from the markets regardless of the asset you choose to include in your portfolio. We accomplish this by using no-code easy to use solutions.
Intuitive Code brings an experience similar to Netflix with additional rich features as Livestream, LMS, and collaboration for anybody interested in the markets.
We create value instead of focusing on entertainment. Our offering addresses small investors and enterprise users such as hedge funds, investment banks, and private equity firms.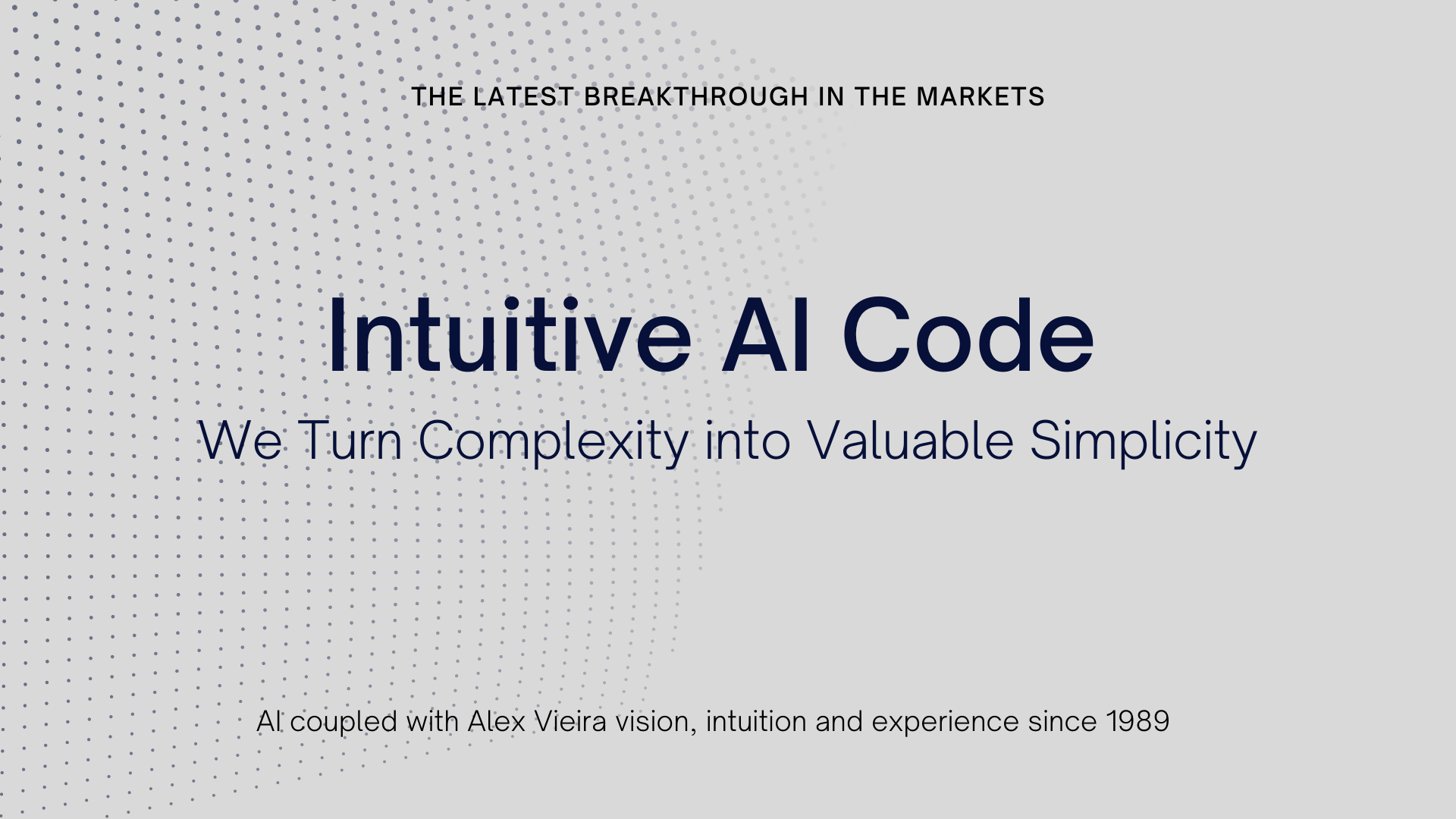 We offer you a compelling competitive advantage using artificial intelligence coupled with Alex Vieira's expertise, experience, and intuition. He has published over 65,000 case studies since 1989. Alex is known for turning useless complexity into valuable simplicity.
We help you get started by choosing from more than fifteen different investment series. Choose between Technology, Biotechnology, Artificial Intelligence, FinTech, e-commerce, Cloud Software, and others.
Alex Vieira and Artificial Intelligence pick up the best content for each series. So choose one or a pack if you are looking for the best value.
We add fresh content whenever Alex Vieira and AI consider it relevant to users. So we have you covered whether you are interested in long-term investment, new technologies and investing trends, geopolitics, education, and expert insights.
We divide the series into different categories for your convenience: stocks, cryptocurrencies, trading, investment, earnings call, ETF, forex, and commodities.
We deliver content as video-on-demand, Live stream, and LMS. In addition, we make online events more exciting, fun, and engaging by including comments on the videos, Live chat, and instant polls in the collaborative app.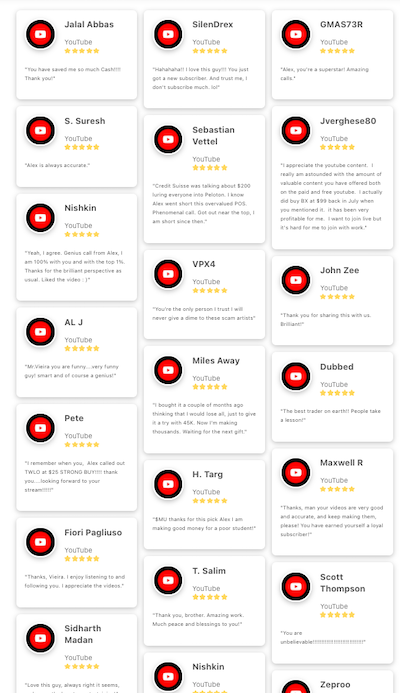 A pack is like a collection of multiple investment intelligence series across different categories. In addition, a pack may include content delivered as video-on-demand and Live stream.
Furthermore, we offer users the flexibility of choosing one video only or creating their series focused on the companies and categories of their interest.
The content is accessible on your browser, but we also have native apps for iOS. Android. Android TV, and Apple TV (soon).
We handle support using an omnichannel AI-powered helpdesk covering the touchpoints you prefer at any time. In addition, we extend the scope of our offering for enterprise users by providing one-on-one expert support using a leading scalable platform, Nextcloud, to guarantee complete privacy between you and us.
Let us know if you have any questions.
PS: We added more than 50 reviews to the site only from YouTube.