AI Expert Insight and Trading Secrets on China Tech Stocks
I decided to add an extra layer of expertise to my China tech bundle sharing A.I. Data, sensitive rules, and online meeting, increasing the bundle's value, but equally its price after the initial offering period terminates.
I am pleased about the success of the bundle, i.e., the reception that had among investors.
Therefore, I decided to add more content to my China tech bundle to discuss technical details such as pivots, share price paths, and probabilities which are great for investors without access to Livestream.
Since the bundle will contain more than one video, you will be able to watch them on my app instead of the bot.
Follow Me; Follow the Money #china #Ukraine #investing $DIDI $XPEV $NIO $BABA $BIDU #stocks $JD $PDD #NFTartist $TSLA $DE #news $QQQ $SPY #investing #forex https://t.co/DLeKWUZANs pic.twitter.com/kxsS8l82W9

— Alex Vieira (@realalexvieira) March 21, 2022
Moreover, within the next couple of months, I might add additional comments discussing updates to be available on the Intuitive Code video platform. The idea is to invite tiny groups per meeting to respond to questions.
These new assets will be available at no extra cost for those that placed orders. After that, however, the bundle price will increase by $4,000, at least for everyone else.
To learn more about the bundle, refer to this article.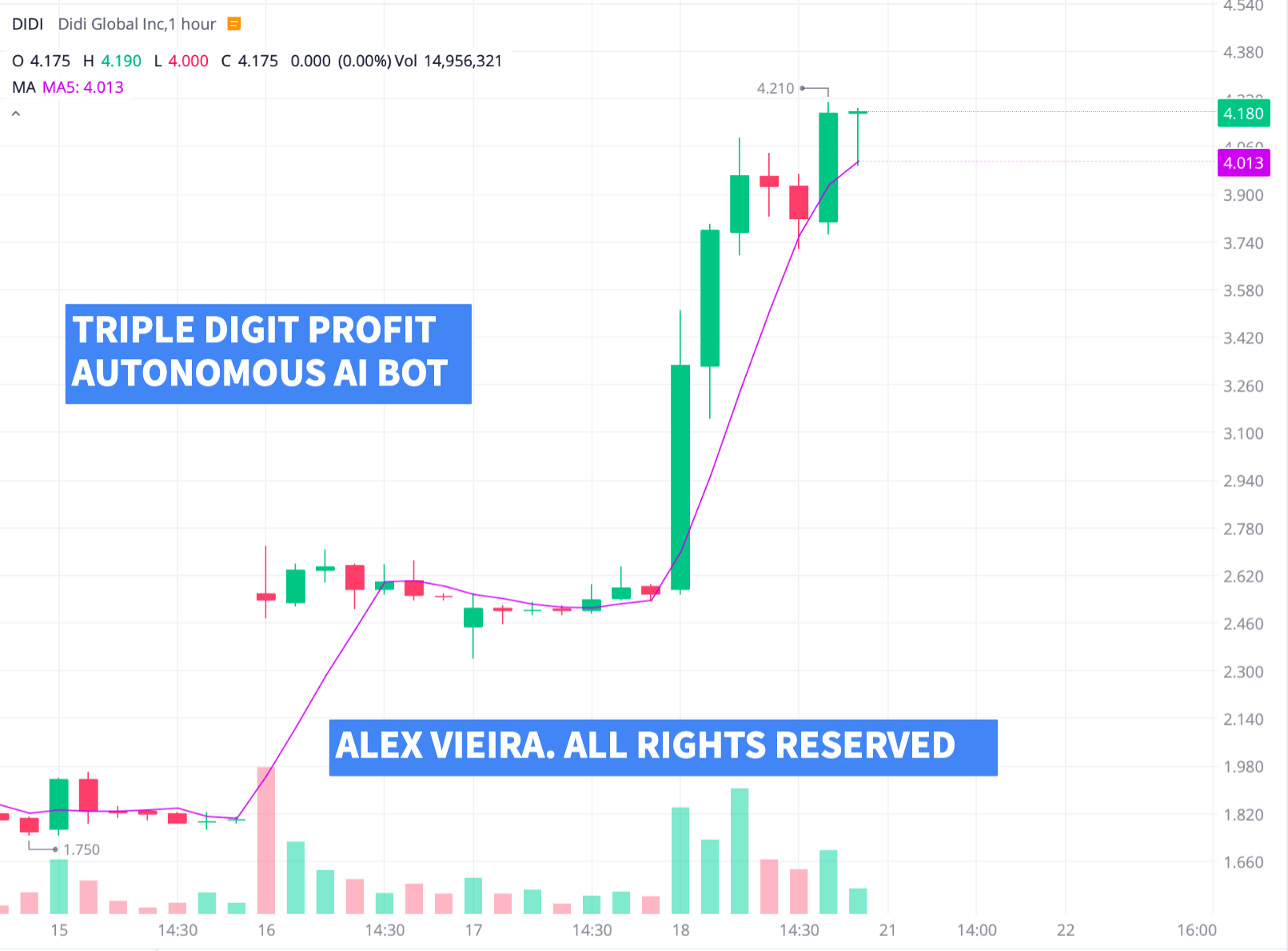 Autonomous AI RPA Solutions
By using autonomous A.I. trading, you benefit from Alex Vieira's insight, expertise, and experience investing in the markets and native integration with Intuitive Code solutions, which enable efficient end-to-end digital transformation by integrating A.I. and robotic process automation. In addition, they develop custom software and implement solutions powered by machine learning, predictive analytics, pattern recognition, intelligent assistants, robots, to apps.