Buy Fastly Shares and Fasten Your Seat Belt Says Legend Who Called Market Crash
Intuitive Code upgraded one hundred U.S. stocks to outperform in 2023. Learn from the investing team that called Fastly stock crash downgrading to junk $128.
Disclosure: I have a long position in Fastly. We reach over 48,000 investors, and our newsletter has over 4,000 subscribers. Those who bought Fastly are very happy,
I covered my short position in Fastly (FSLY). I started selling short the stock long ago, following the legendary investor Alex Vieira, who announced in September 2020 that Fastly's share price would crash.
Don't Miss Fastly Stock Rally to $17
So, now that Fastly's share price crashed to single digits, we started buying shares by the end of 2022, aiming at outperforming in 2023. Similarly, we bought shares of one hundred companies. For example, Twilio is another name we recommend that you buy.
Fastly's recent earnings report was exceptionally good. We bought shares ahead of earnings, as in Twilio.
We changed our rating in Fastly, upgrading to Strong-Buy, giving it a price target of $17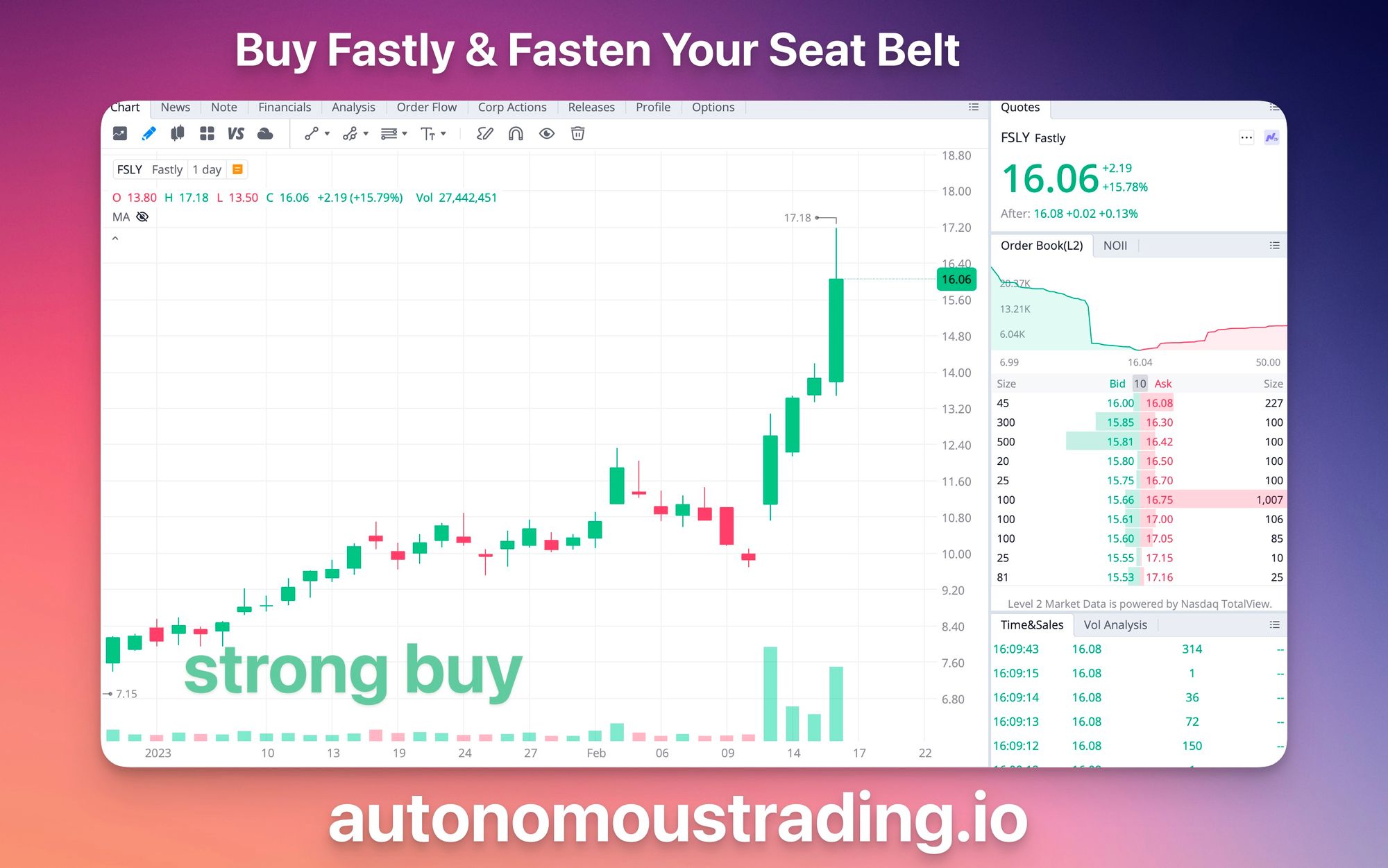 Fastly's share price soared over one hundred percent, but do not worry. Recently, we bought more shares. You can buy it tomorrow or the next crash - the decision is yours.
On the other hand, if you prefer stocks to sell short, we have you covered with the legendary BBBY short-seller.
We aim to accurately predict the price evolution of different assets like stocks, forex, commodities, and ETFs using algorithms and our expertise in numerous fields. Intuitive Code AI algorithms deliver up to 100% accurate real-time trading signals and highly accurate analytics for professional investors to outperform in the financial markets. Our expert insights include easy-to-use real-time visual instructions with market impact. Unlike others, our unmatched public record goes back to 1989, discussing how to invest successfully in leading companies since IPO.