Autonomous Trading Team Makes History Investing in AMD New Silicon Valley Star
When Alex Vieira called the ultimate bottom in AMD at $9.85 urging investors to buy millions of shares predicting that AMD share price would outperform Nvidia (NVDA) and Intel (INTC) the outcome was known - AMD rapidly became the new star in Silicon Valley.
AMD stock has more than doubled this year and is trading at a nearly 12-year high. That makes AMD the best performer in the S&P 500. AMD(AMD) recently passed heart pump maker Abiomed (ABMD) to take over the top spot.
---
---
AMD rules in Silicon Valley and on Wall Street.
Thousands of investors listened to Alex Vieira outlook for the semiconductor industry. They dumped Intel (INTC) and Micron (MU) to invest in AMD and nVIDIA (NVDA).
---
We're very pleased to be the first company in the world helping small investors turning into millionaires and multi-millionaires into billionaires. Vieira
---
---
AMD and Nvidia Soar to New All-Time Highs in 2018! AI Rules in Wall Street.
Autonomous Trading CEO also predicted that AMD would outperform Nvidia performance since his upgrade to Strong Buy.
AMD closed Friday's session at $24.3 gaining almost 300% since Alex's Vieira upgrade.
---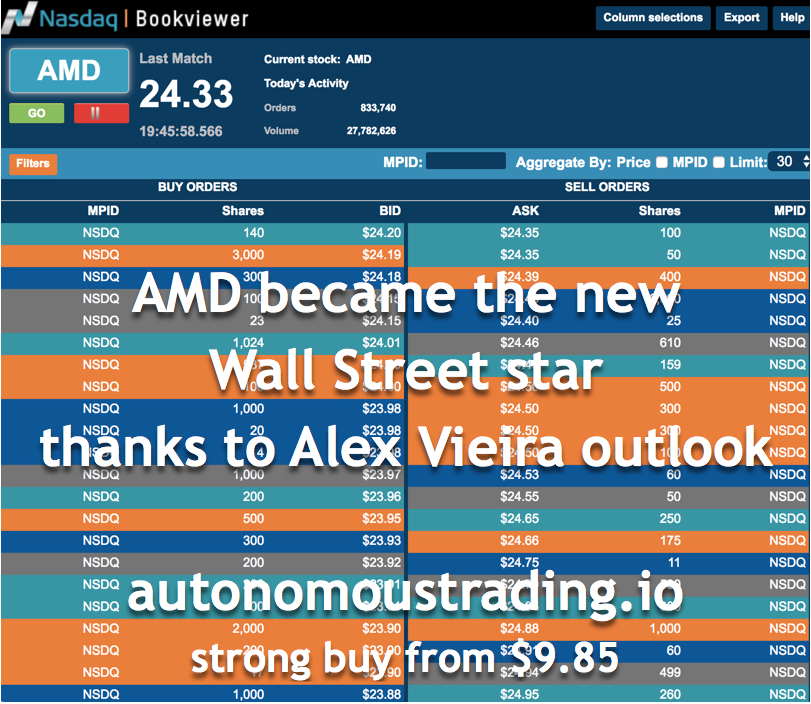 Everyone participated in this historical event, from small to professional investors, subscribers to Intuitive Code and Autonomous Trading.
Learn more about the basic plans for small investors TRADING BOT 0, and TRADING BOT 1.
Historical participation in Nvidia new all-time highs strong buy since $12.65 $NVDA #nvidia https://t.co/vyNswM3JEd pic.twitter.com/xrmTCiKJ5Z

— Alex Vieira (@vieiraUAE) August 23, 2018
---
Alex Vieira has a Strong Buy rating in Nvidia (NVDA ) since $12.6 helping long-term investors to make more than 4,300% since then.
Nvidia $NVDA just bought $100.5 after-hours STRONG BUY

— Alex Vieira (@vieiraUAE) May 9, 2017
Do Not Listen to Crooks, or You Will Lose All Your Money!
It is of the uptmost improtance that serious investors comprehend how to invest in the stock market neglecting the useless opinion of the biggest fraud in the stock market.