ARKK Innovation ETF Lost Billions After Selling My Stake $158 Sending Tesla Into Bear Market.
As a Tesla and ROKU investor, I started buying ARK Innovation ETF in 2020 at $43 urging everyone following my advice to buy continuously large stakes, but in 2021, I gave these investors a sell signal at $158 which ended up sending Tesla into bear market territory.
My name is Alex Vieira, no one knows me. I turn a company in $120 billion dollars market cap within a week shattering all records in the history of the markets, all because I can. Furthermore, I do it with 100% accuracy moving billions of dollars.
ETF Ark Top Live Trading
Alex Vieira makes the calls in the markets showing what no one else can do live on the tape because we have the funds, the technology, the knowledge, and the experience.
My real-time trade alerts and analysis for companies like Tesla, ROKU, Stratasys (SSYS), and ETF ARK Innovation (ARKK) are published on the site in real-time for investors to follow-up closely as well as on live stream trading.
Alex Live on YouTube Warning ETF ARK Investors
Alex commented on YouTube about Cathie Wood's ETF ARK urging people to sell shares since he bailed out going short the hype.
It's perfectly natural that an ETF loses billions in value after we sell our stakes because we are the ones with the funds. Therefore, my trade signals on Tesla and ETF's sent the car maker into bear market territory making the news.
I called myself customers informing them about Tesla from the very top $880 avoiding unsecure channels. Alex Vieira
On my most recent free live streaming session I referred to the importance of looking at Tesla taking profits while everyone was focused on GameStop.
Blink Charging Live Trading Reviews
To these investors who have been following my work for many years, I also offered them Blink Charging (BLNK) at no cost since they strictly followed my recommendation buying at $11 selling at $64.
We all reversed our positions to the short side on Blink Charging more than doubling our outcome in two weeks. Blink Charging share price crashed over 50%. Congratulations to them.
I strongly recommend selling Blink Charging going short. You are going to make millions of dollars on my free call. Alex Vieira
For those interested in learning how to get started investing in the stock market I made available on YouTube lessons addressing Blink Charging while I had a long position.
Get Started Making Real Money
I make all the calls in the stock market proving it live on the tape while teaching people how to invest.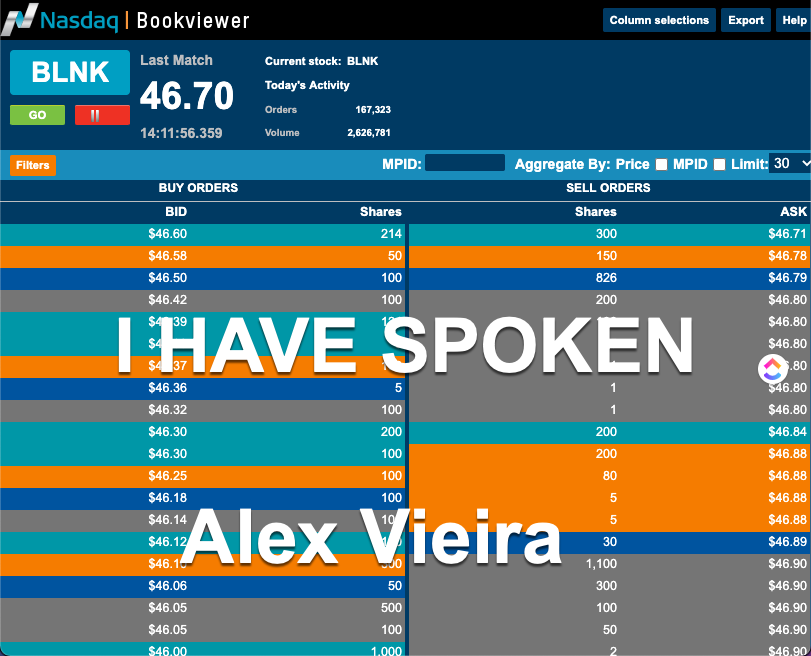 Now, learn about celebrating Tesla $500, $1000, $1,500, $2,000, $3,000, and $4,000 on my free podcasts and on the Blog.