Alex Vieira Live Stunning Tesla News and Free Upgrades!
I am proud to announce what's coming for existing A.I Vision users at Intuitive Code. Learn more about free upgrades, autonomous platform, A.I Vision, Perelman Algorithm, and Tesla share price for Monday!
I posted news on the news site just to remove them a couple of minutes later as  a fresh email from Alex arrived.
Just received a formal note from Alex Vieira giving permission to upgrade all existing A.I Vision plan users only to live streaming and the new platform for free. With this solution, Intuitive Code confirms that you no longer need to rely heavily on content for A.I Vision members on the blog since they will make it readily available elsewhere and much faster. Kindly note this permission does not apply to future A.I Vision users, therefore do not rush to place an order.
Autonomous Platform
Autonomous by Alex Vieira is the first integrated platform that connects highly accurate market analysis (A.I portfolio, A.I ratings, A.I analysis) from Perelman's algorithm with live trading, live stream, coaching, A.I bots, and live support from a legendary team of professional investors, giving traders the ultimate competitive advantage in the markets. Trade stocks, Forex, and ETF's from your platform. Drastically leverage your performance by experiencing up to 100% accurate trade signals. Apps and A.I bots available. Distributed by Intuitive Code.
Tesla News
He also announced on Twitter to know Tesla's share price for the coming Monday, information sent out  Saturday on A.I Vision app (to be repeated tomorrow Sunday), along with a video including instructions available on the platform and on the conference's site. You are going to receive an all-pass to attend live streaming.
If we can do this that not even Warren Buffett would do in one thousand years, Tesla is far easier than you ever thought. Alex Vieira.
Logic will get you from A to B. Imagination will take you everywhere. - Albert Einstein.
Autonomous driving will get you from A to B. Autonomous A.I Vision will take you to the maximum return on investment point. - Alex Vieira.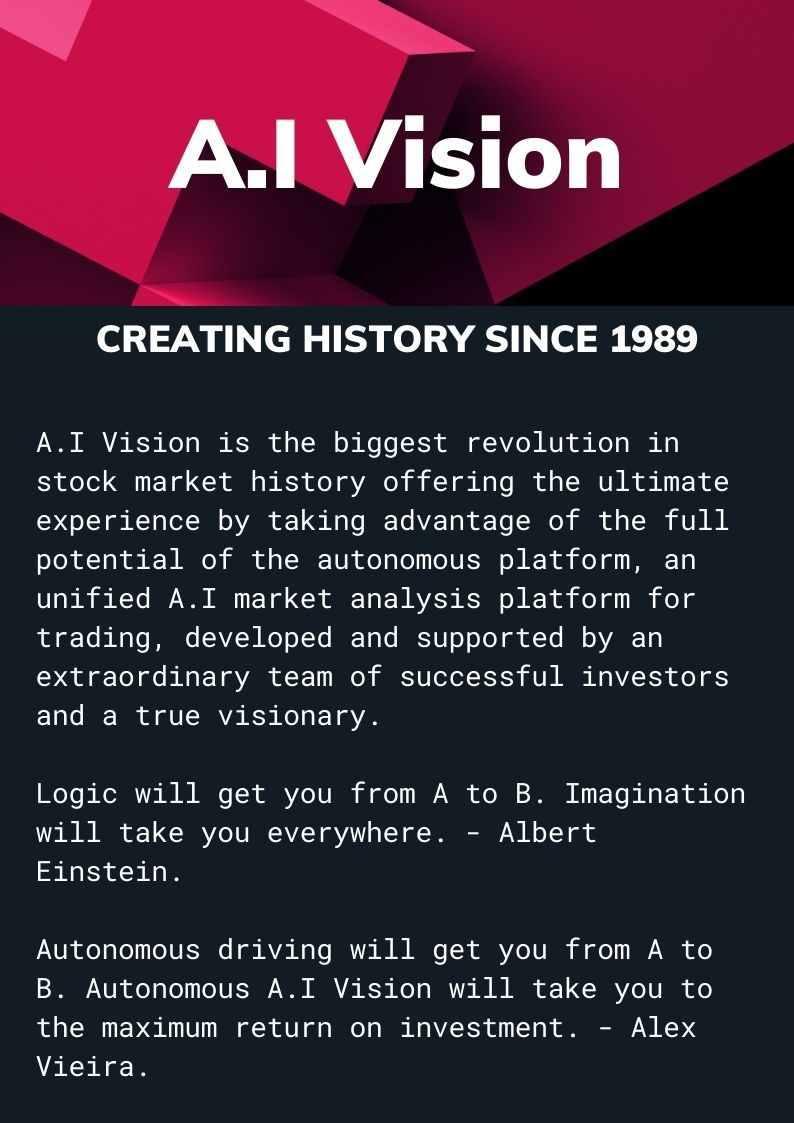 I would like to use this opportunity to inform that Intuitive Code about us has been updated.
Perelman Algorithm
Perelman A.I algorithm offers the ultimate level of accuracy, confidence, and return on investment no human being can match demonstrating it live on the tape under the most distressing market conditions, regardless of financial asset, and market sector.
Our algorithm was designed having in mind autonomous imaginative concept permanently acting, measuring, and executing towards maximum return on investment regardless of common beliefs.
You're invited to learn about its potential by watching over 65,000 cases studies discussing stocks, Forex, ETF's, oil, gold, and cryptocurrencies.